Arccos 360 Golf Performance Tracking System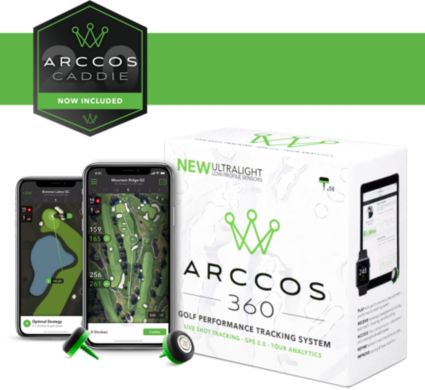 Arccos 360 Golf Performance Tracking System
is rated out of
5
by
22
.
This product is currently out of stock.
Please choose product options above
Please choose product options above
PDP Sticky bottom AddToCart Section - active and hide position
Product Information:
Golf's #1 Performance Tracking System and winner of Golf Digest's 2017 "Editor's Choice Award", Arccos 360 combines fully-automatic Live Shot Tracking, GPS 2.0 and a proprietary Tour Analytics platform to help golfers of all abilities lower their scores and have more fun. By pinpointing players' strengths and weaknesses to focus their practice, and helping them make smarter on-course decisions, Arccos players lowered their handicap 3.55 strokes last year, 46.7x faster than the average golfer with a GHIN handicap.
Product Highlights
Smart Distance: Know exactly how far you hit each club in your bag
GPS 2.0: Know exactly how far you need to hit your next shot to clear the bunker or to reach that back pin
Tour Analytics: Know exactly what you need to practice with a detailed breakout of your specific handicap by Driving, Approach, Chipping, Sand and Putting
Arccos Caddie: Golf's first artificial intelligence platform, developed in partnership with Microsoft. Arccos Caddie takes into account weather conditions, elevation and your specific shot data to provide your optimal strategy and "Plays Like" distances to any point on the course.
Permitted Under the Rules of Golf (Decision Number 2017-0754).
FEATURES:
Boasting new sensors that are 50% smaller and lighter than the first generation Arccos system, Arccos 360 automatically records every shot a golfer makes, revealing strengths and weaknesses to enhance on-course decision-making.
Compatible with iPhone and Android devices, Arccos also provides an industry-leading GPS 2.0 system that includes rangefinder distances to any point on 40,000 courses and one-touch, front/middle/back yardages to the green.
An extension of the renowned Strokes Gained methodology, Arccos Tour Analytics is more powerful than any analysis tool used on Tour, delivering handicap breakdowns for Driving, Approach, Chipping, Sand and Putting as well as club distance averages, driving accuracy, greens in regulation, sand saves, putts and much more.
Additional features of Arccos 360:

New software that increases accuracy by up to 90%
Permanent battery designed to last five years with no charging and backed by a 2-year Guarantee
Fully-automatic, hands-free system with no tagging or extra devices
Detailed insights into historical performance for every club and round
Web dashboard to fully analyze stats with your coach or on your own
What's Included:
14 ultralight sensors (13 standard, 1 putter)
Access to free iOS and Android apps
Starter Guide
Brand: Arccos
Country of Origin: Imported
Style: 20010Y
Rated 5 out of 5
by
Lofty
from
Great info and detail
The information provided supplies brilliant feedback. I discovered 2 clubs in my bag that i cant hit for nuts (28% GIR) and 2 that I cant miss, with figures of 85% and 100%. I know where the work is needed. I asked for mapping on 6 courses in Australia and they were done inside 2 days.Only issues so far is one or 2 missed shots in 5 rounds which can easily be edited. A spare sensor on top of the exact 14 provided would be nice (just in case I lose one). Once or twice the app got a little confused moving between holes and ended up merging 2 holes together. Again this is pretty easy to fix after the round. Apple watch support would also be a bonus.
Date published: 2017-02-09
Rated 5 out of 5
by
draube
from
Incredible product and outstanding support
I've been using Arccos for a year. I bought the first generation and a few months ago upgraded to Arccos 360. The product is great and works well. It is accurate, but if it adds a phantom shot or you need to adjust certain shots the editing options are amazing. The customer service has been tremendous as well. They respond quickly to questions and take care of any issues you might have. They also continue to innovate and update the app with new and improved features like the. Rand new Arccos Caddie that uses Microsoft Cloud technology to analyze your data and make shot recommendations for each hole. A+ 5 star great company and product
Date published: 2017-05-25
Rated 5 out of 5
by
Plastibob
from
Hassle free shot tracking and statistics.
I absolutely love the fact that once you pair once when you buy them, you don't have to do anything but start the app. Playing your round is great you get the normal yardages and views (also works great with Apple watch series 2) but you don't enter anything. You can check out your shots during the round but the fun comes after reviewing your round and seeing how you did. I would highly recommend the Arccos 360. I had a problem pairing when I first got them and their customer service came through and replaced a sensor. The only enhancement I would like to see is the app should be more graphical in addition to the data. Also I would like to see the score toggle between strokes over par and actual number.
Date published: 2017-08-15
Rated 5 out of 5
by
dparker26
from
Great way to improve your game
Arccos 360 is a great way to improve any golfer's game. No matter your handicap, this system will quickly identify your strengths and weaknesses. This system will not just tell you how far you hit each club, but all the statistics you want to know about your game. This includes, average putts, average score, average amount of greens in regulation, average amount of fairways hit, up and down percentage, sand save percentage, and much more. All of the information that the system gives you will help you shave strokes off your game in no time. The new system is a huge improvement from the last. It is much smaller, and you wont even notice it is on the end of the club. It is more efficient only registering when you hit a shot, no other outside noises will be registered. Also, you can share rounds or even certain shots with friends. The pairing process is so quick and easy, you will be set to go in no time. I would definitely recommend this product to any golfer looking to lower their handicap.
Date published: 2016-11-19
Rated 5 out of 5
by
RedMiata98
from
Works as advertised
Used it for 11 rounds and it captured all strokes and distance. All three of the golf courses I played were available for download. There is a minor problem with the sequencing of holes in the data base for Lake Ridge. I had two dead sensors out of the box but replacements were quickly sent free of charge. Great way not to have to mark your scorecard and accumulate data about your playing. Would buy it again!
Date published: 2017-08-03
Rated 1 out of 5
by
Spitfire69
from
Arccos 360 for Android
I purchased the Android version and installed the software on a Samsung Galaxy S7 Edge purchased shortly after acquiring Arccos. I have been unable to use the software because it shuts down almost immediately after I open it. Initially I was able to pair the sensors on the club's but have been totally unable to use after that. I contacted Arc is and the supposedly open a troubleshooting ticket. After that communication I have heard nothing back I would NEVER recommend this product to anyone who plans to use on an Android. I cannot comment on how it works on an IPhone, buy if you are thinking about using on an Android phone - DON'T. SAVE YOUR MONEY.
Date published: 2017-09-23
Rated 5 out of 5
by
Jab2424
from
Very informative
I've used arrcos 360 for 6 rounds now and it's really helped me discover how far my clubs consistently go. Has worked flawlessly on detecting shots and works perfect with my iPhone 7plus and Apple Watch. It's been very convenient to just glance at my watch for distance to center of green and club suggestions. I thought having my phone in my pocket while playing would be a nuisance but it hasn't bothered me one bit. The only thing I'm not a fan of is the putter sensor. Because of the irregular shape it sticks off the end off my putter slightly but it doesn't distract me while using which is good.
Date published: 2017-07-15
Rated 5 out of 5
by
GD17
from
Easy to use and awesome stats about your game!
Screw the sensors onto your club, download the app, start the round, put the phone in your pocket and play! Super easy to use. The data you get about your game is invaluable. My favorite part is that I can see exactly how far I hit each club, an no longer need to guess.
Date published: 2017-02-22