adidas Women's Edgebounce Running Shoes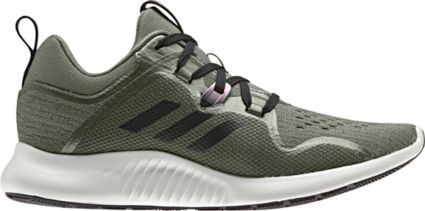 adidas Women's Edgebounce Running Shoes
is rated out of
5
by
228
.
NOW: $

51.97

- $64.97
(

35%-48%

off!)
WAS: $99.99*
The price of the product might be updated based on your selection
This product is currently out of stock.
Please choose product options above
Please choose product options above
PDP Sticky bottom AddToCart Section - active and hide position
Step out with an edgy look for everyday training in the adidas® Women's Edgebounce running shoes. The stretch-knit upper offers foot-cradling comfort while a midfoot adjustment system lets you customize the fit. With every stride the flexible Bounce midsole cushioning maximizes comfort and helps you bound forward. Complete with a durable Adiwear outsole for maximized traction while you're on the move.
FEATURES:
Lace closure provides a snug and secure fit
Seam-sealed stretch mesh upper cradles the foot and delivers breathability
Midfoot adjustment system lets you customize your fit
Internal custom-fit sockliner maximizes comfort in shoe
Flexible Bounce midsole provides responsive cushioning
Adiwear outsole maximizes durability and traction
SPECS:
Brand: adidas
Country of Origin: Imported
Style: AC8116, BB7563, BB7565, BB7566, CG5536
Web ID: 18ADIWDGBNCWHTPRLFTW
Rated 5 out of 5
by
Nikkin69
from
Great purchase, now I am an Addidas fan.
Very comfortable, different color, I have received many compliments about them.
Date published: 2019-01-01
Rated 3 out of 5
by
js2345
from
Stylish but not for running
I love these shoes because they're Adidas but they aren't good for actual running. The heal is cushioned but the toe box and instep have no cushion. Would recommend these for weightlifting or for running errands but nothing else. I love the design but I'm a little disappointed.
Date published: 2018-10-14
Rated 5 out of 5
by
Lliyah20
from
These are amaxing
My new favorite shoe! Fits perfect and I was worried about ordering online.
Date published: 2018-06-29
Rated 2 out of 5
by
pvnv
from
annoying noise
Makes a rubber noise with each step, regardless of the type of floor you're walking on.. will return.
Date published: 2019-01-20
Rated 5 out of 5
by
Hykes
from
A great product
Adidas has been around for a long time and has always been a favorite athletic shoe for mr
Date published: 2018-08-17
Rated 2 out of 5
by
Hopmayer
from
Weirdest constructed shoe ever
Doesn't look much like the photo and fits very weirdly - avoid!
Date published: 2019-03-01
Rated 5 out of 5
by
Serenitymae
from
Good shoes
I was skeptical in buying these because I haven't had good luck in buying shoes online. I had to even contact a live agent to make sure that these shoes were slip resistant since it doesn't mention that it is in the description. If you are looking for non slip resistant shoes, these shoes are good for it. I work in a restaurant, and it is completely comfortable for the whole day, & I don't slide like crazy in the kitchen like my old shoes did. (I never wore those shoes again because it was way too dangerous). If you are looking for comfort, this is the pair of shoes for you. If you are looking for non slip resistant shoes, these are the shoes for you. Cons that I've noticed so far. These shoes are pretty squeaky. They also don't do well with water.
Date published: 2018-12-28
Rated 3 out of 5
by
ace0196
from
Just a little off..
My main concern is how the color is advertised. The picture makes it look white when in actuality it is pretty much beige... and darker beige. It is also advertised as a running shoe and if you deal with overpronation this is not a shoe for you due to a lack of arch support. It is a good shoe, however, it is not what I had expected.
Date published: 2018-12-31
Rated 5 out of 5
by
CObadger
from
Good traveling and light running shoe
Bought a size 10, have a wide forefoot. Took these shoes for travel to Europe: hiking in cinque terre, walking promenade in France and walls of old city Dubrovnik. Also did a few 3-4mi runs and airport/train running (if that counts ;)). These shoes held up for the hiking to walking to running in wet and dry conditions. I would recommend for the activities mentioned, but not for my every day running shoe since I need more support. I will likely use as a walking and gym workout shoe.
Date published: 2019-06-06
Rated 5 out of 5
by
Caitlinc
from
Sleek and chic
Love the shoes super comfy and stylish. I just don't like the laces they come untied to easy
Date published: 2019-04-05
Rated 5 out of 5
by
Emerie
from
Great shoe very comfortable design is good and the color was just what I was looking for
Date published: 2018-07-22
Rated 5 out of 5
by
Lolax1994
from
Amazing
I work in the hosptial so i was looking for something that is comfortable and that i can be in hours and hours at a time when i tell you these sneakers are amazing i truly mean it all my co workers got a pair now. If your someone thats on your feet for hours & hours these sneakers are perfect. I wore them till they ripped. Now i have the black pair im so happy. Whats crazy is ive spend hundreds of dollars for sneakers like this and they were never close to these.
Date published: 2019-05-01
Rated 5 out of 5
by
Tyler2308
from
It works well for running. My feet do not hurt while running
Date published: 2019-05-14
Rated 5 out of 5
by
Steph2628
from
Love these shoes, and they are GREAT for wide feet.
I have *very* wide feet and narrow heels, and these shoes fit wonderfully. I use them for weight training. I love being able to control the fit of the shoe by lacing tightly or loosely. There's an ever so slight slip in the heel, but that's normal for how my shoes fit in general. The inner lining fabric makes up for this and is SO SMOOTH. It feels great to wear. These shoes are stylish, incredibly comfortable, and a great price. Highly recommend!
Date published: 2019-01-10
Rated 5 out of 5
by
ClaireHelen
from
Arch support for daysss
I just received these so I can't necessarily speak for how well they hold up over time, but I was so excited about them I had to share. I do not have a narrow foot and I tend to be in between sizes, so ordering shoes online makes me nervous. I listened to several other reviews and opted to order a half size up and they are perfect! The support and fit are exactly why I continue to come back to Adidas, I can't wsit to wear these to the gym!
Date published: 2019-03-31
Rated 4 out of 5
by
Aleg18
from
Great walking shoe with enough give to bounce right up!
The shoes might feel a little hard at first but free your first wear, they adjust to your foot. I would recommend to maybe order a 1/2 size smaller. They run slightly big but this is not a huge issue for me sine you actually want some give if you are running. As far as using them for a running shoe, probably not my go to. A little stiff for my taste but they are great for waking and cross functional training.
Date published: 2019-01-23
Rated 5 out of 5
by
legcoug29
from
Great shoes for a dance class or running
I needed a new pair of shoes for my dance fitness class I attend and these work great. They are not too narrow or wide. They are comfortable and the tread doesn't stick to the carpet when you are constantly moving. The only difference between the one's I received and the one's on the website are the stripes are black on the shoes I received and online they are pink. I like the green with black stripes.
Date published: 2018-09-24
Rated 5 out of 5
by
madar1a
from
Great for running and training
I'm usually size 8 but got 8.5 because my big toes are curled up and I don't like when they stick out through the fabric. Shoes are wide but they can be easily adjusted with the shoelaces. I run and lifts weights in them. They're squeeky at the beginning (due to bristles on the soles and squeek when in touch with the ground) but after the while they stop making that sound. They look great too.
Date published: 2019-08-05
Rated 4 out of 5
by
Crimson278
from
Good gym shoes
These shoes are nice and work well in the gym while weight lifting and performing cardio. I took other's advice and ordered a size up which was a bad idea, they were too large and I had to exchange them for the right size. They are slightly wide, not to the point of discomfort but I would say they run slightly wide. Overall these are nice for weight training and they are cute!
Date published: 2019-03-28
Rated 3 out of 5
by
carina581
from
Disappointed
I was disappointed to see that the fabric around the laces is not clean cut and it honestly makes the entire shoe look cheap. The quality of the rest of the shoe is good and looks really nice, so had it not been for this I probably would have kept them :/ If this detail doesn't bother you then you will probably like this shoe but I personally was expecting better
Date published: 2019-06-18
Rated 4 out of 5
by
Luckytwentyone
from
Looked wide but the fit was almost perfect
I'm size 7 in almost everything so I ordered size 7 and it fit well. I almost returned coz it looked to large on my feet but I kept it since it looked okay after a day of fitting it inside the house. After using it twice, the right foot felt comfy but the other felt a bit of pain on both times. Not the shoes fault though, some feet are just not created equally.
Date published: 2019-06-22
Rated 3 out of 5
by
Mai3ohh
from
It was just eh for workout shoes
At first when it arrived, it looked super cute and felt comfortable. I was super excited to bring them to the gym but it wouldn't stop making squeaking noise when I walked. Also, when I was doing plank on a mat, I kept slipping. But if you are going to purchase as everyday shoe, it is comfortable and very cute. Just a little disappointment as a workout shoes.
Date published: 2019-03-12
Rated 4 out of 5
by
Kitjan
from
Comfortable, great style
I needed a new pair of sneakers to wear casually and to go to the gym, and these serve their purpose. The way they lace up makes them feel a little looser than I would like toward the ankle, but overall they are very comfortable, and I even wear them to run. I love the look of them, as they match everything from workout gear to casual street wear.
Date published: 2019-01-28
Rated 2 out of 5
by
IshM05
from
not happy with this purchase
the shoes look great, however, for me they are too narrow from the heel area and the middle of the sole. Even though they are running shoes, I get severe pain in my feet after couple hours of wearing them. Feels uncomfortable, suffocated and less memory foam type material, thus lacks cushion. these shoes may be for most, but they aren't for me.
Date published: 2019-04-03
Rated 5 out of 5
by
Jimjoy
from
Big bang for my buck
I've been through many brands and styles trying to find the perfect pair of running/walking shoes and these have been the best yet. I run or walk 6-10 miles a day and was really needing some comfort & support while still looking good and these fit the bill. I've only had them for a few weeks so I'm hoping they hold up as I put miles on them.
Date published: 2019-01-18
Rated 5 out of 5
by
Krissyworld
from
Great buy for the price.
I was a little skeptical because they didn't look very great but I like to try all different styles plus I wasn't sure about the color. Most of my shoes are for work or athletic purposes. When they showed up, I was very pleased. They are very cute and very comfortable. They fit perfectly and easy to slip on but still fits the bill.
Date published: 2019-04-13
Rated 2 out of 5
by
SuzeB
from
Ill fitting and bulky
The shoe was poorly made, with the eyeholes for the laces being crooked and the front of the shoe being much too wide. The sole of the shoe was comfortable and the material of the body was soft, but with the uneven eyeholes and bulky look (much too wide and about 1/2 size too big despite ordering a 1/2 size down), I returned these.
Date published: 2019-01-18
Rated 4 out of 5
by
Emma022
from
Super comfy but...
I used these shoes for running in Track practice. They were super comfy but the part around your ankle isn't tight enough. It's very comfortable for everyday use, or use at the gym, but for jumping and starting on blocks, the shoe doesn't stay on your foot that well. If that part isn't important to you, it was a good purchase.
Date published: 2019-08-01
Rated 1 out of 5
by
Mimmers
from
Best looking shoe but uncomfortable by design
I really like the look of rhis sneaker and color as well, the only problem is the metal detailing on the side digs into my foot while i run. I had already worn them and didnt notice the metal digging in when i jus tried them on so i was forced to keep them. If you like to run these shoes arent for you.
Date published: 2019-02-07
Rated 5 out of 5
by
MJMorten
from
Comfy Study Shoe
Made mistake of ordering up a size after reading a review to do so & shoe was too big. I suggest ordering your true size. I'm a size 8 ordered 8.5 was too big. Gave to my daughter a size 9 who loved shoe & 8.5 fit her size 9 just fine. Overall shoe is very comfy & sturdy for price.
Date published: 2019-01-20